Practicing
Sustainable Urban Agriculture
Strengthening
Local Community
Providing
Environmental Education
Enhancing
Wildlife Habitat
Community Garden Rows
With a new year comes a new growing season. RGCF's community garden is tucked in the North West corner of the Los Poblanos Open Space, and boasts some of the best views in the city.
We irrigate regularly, and provide manure, tools, mulch, seeds, and other supplies to gardeners.
Reserve your rows while they last.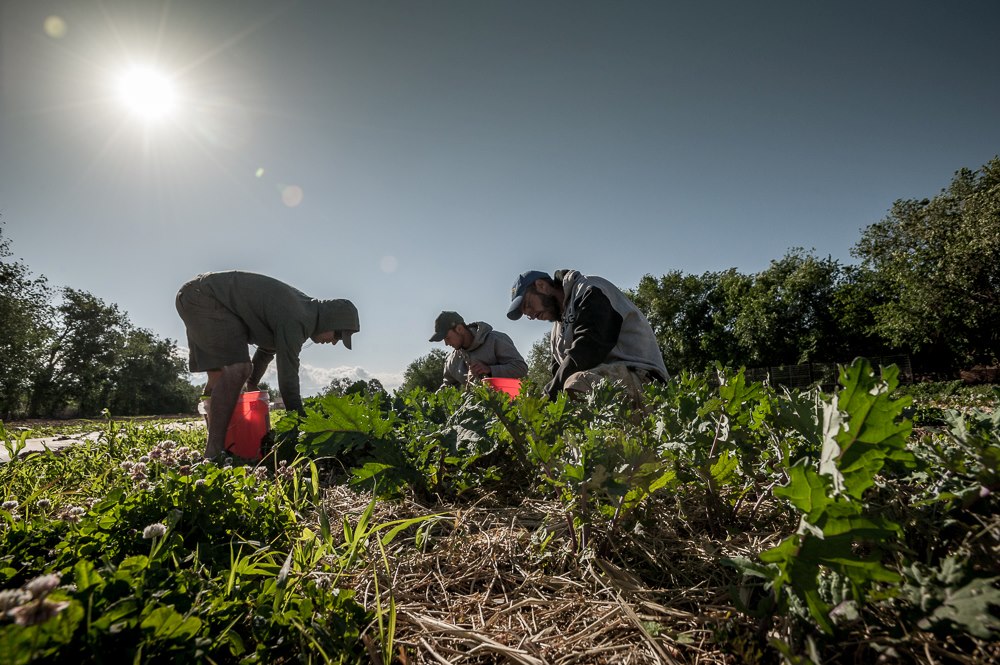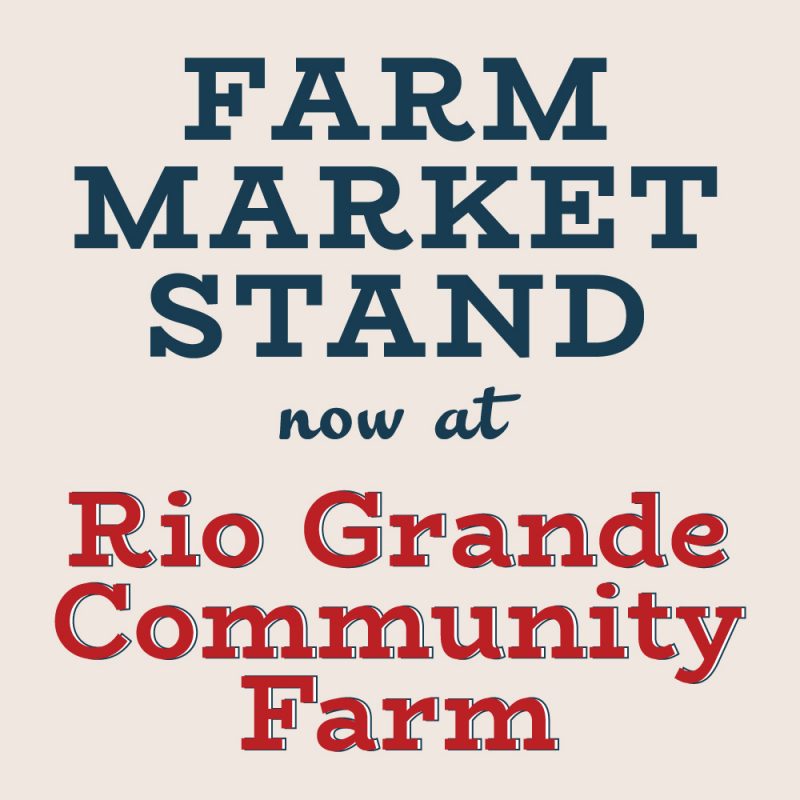 Farm Market Stand now at Rio Grande Community Farm
Find our micro-farmers selling a variety of offerings at two new farm market stands at Rio Grande Community Farm!
8am – 11am | second and fourth Sundays starting in June.
You can find the farmers in the Los Poblanos Open Space parking lot off of Montaño.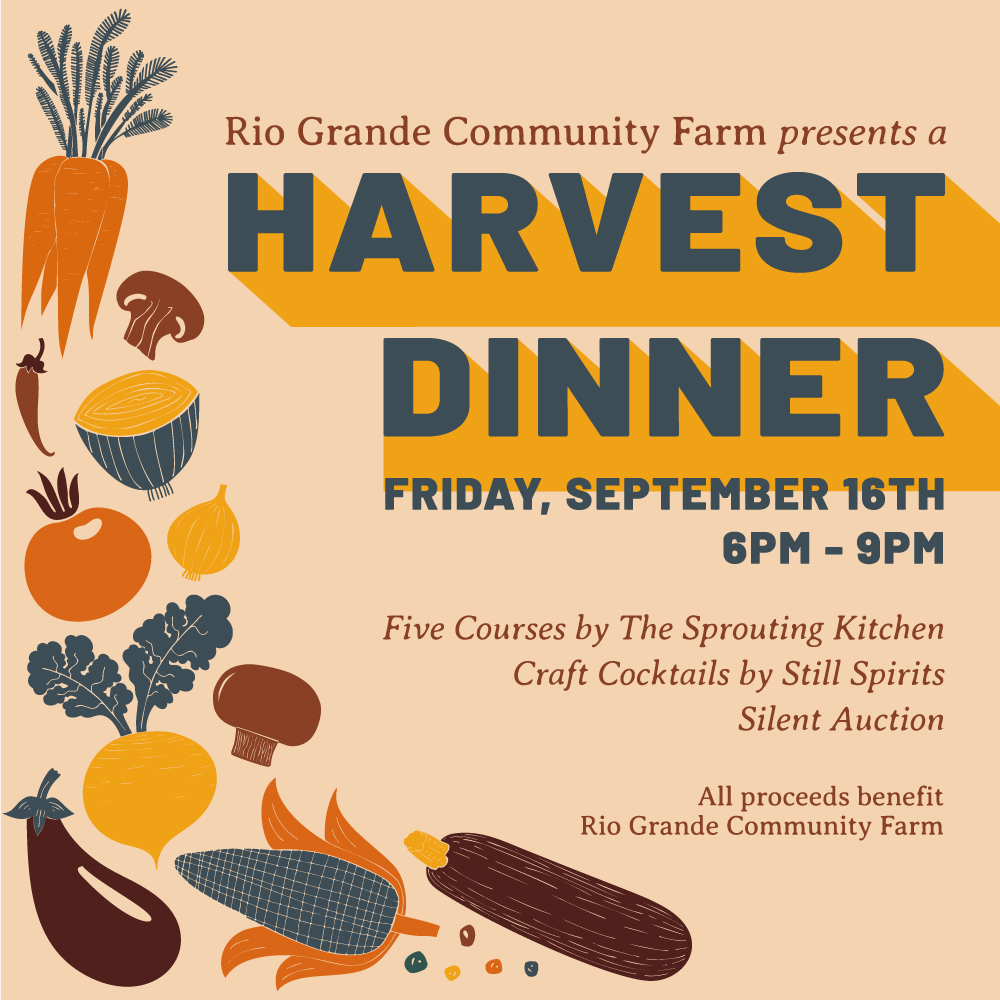 Seat at the Rio Grande Community Farm Harvest Dinner
Celebrate the autumnal harvest with us on Friday, September 16th from 6pm – 9pm. The Harvest Dinner is a fundraiser to benefit Rio Grande Community Farm.
We will gather under the majestic cottonwood tree in the Los Poblanos Open space. Fallon Bader of The Sprouting Kitchen is preparing a sumptuous, local-centric five course meal honoring the autumnal harvest, and Still Spirits will provide two craft cocktail options that pair with the dinner menu. There will be a silent auction full of local goods from Los Poblanos, Rainbow Ryders Hot Air Balloons, Betty's Bath and Day Spa and more!
Seats are $150 and there are a very limited number available, so don't wait to snag yours!
TICKETS HERE!
Merch
Farm-chic and forever in style, RGCF merch is as much at home in a brewery as it is in the barn.
Our apparel is locally designed, durable enough for the barnyard, and comfortable enough for endless video calls.
Sporting our t-shirts, hoodies, hats, totes and bandanas is a great way to show your support for the farm, and to support our local business partners.
Shop our Merch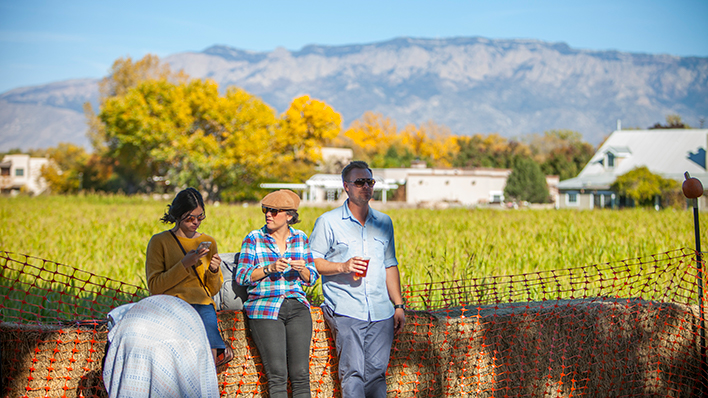 Membership
We have big plans, and membership is a great way to support Rio Grande Community Farm. Members get great perks including discounts at sponsor organizations like Farm and Table, Dave's Valley Grill, Osuna Nursery, Casa Rodeña winery and Alameda Greenhouse.
Join today for as little as $10 per year.
Sign Up
Composting
Did you know, Rio Grande Community Farm has two compost bins where you can drop off your kitchen and garden waste? It's a free and easy way to reduce your contribution to the landfill, converting your scraps into compost for the farm.
How to Compost at RGCF
Our Weather Station
We have a weather station at the Rio Grande Community Farm barn (map). You can see live weather reports for the conditions at the farm here on our website.
If you are a grower interested in trends, contact us for more information.
More weather information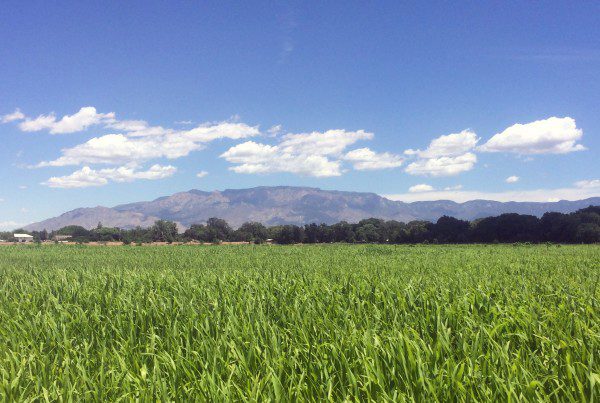 Setting Priorities, Land & Climate Challenges, and Finding Opportunities Designed for curious, beginning farmers, this free day-long workshop introduces agriculture in the Middle Rio Grande Valley, including environment, community, markets,…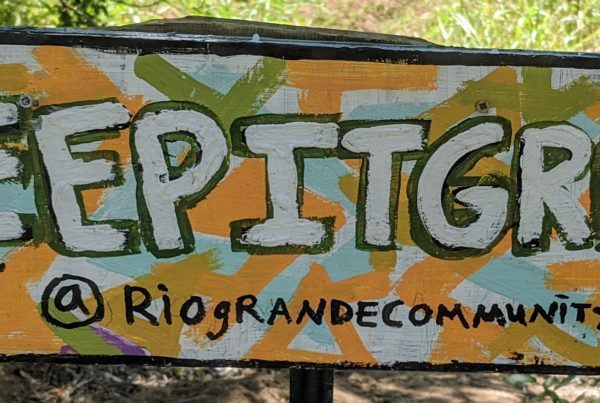 Andy Jo, the creator of this sign, is the proprietor of Space Dog Farms and one of the RGCF small farmers in the open space. He hid the sign somewhere…
https://www.youtube.com/watch?v=bTTc41_O2QE&feature=youtu.be Note - This is an archived post. This post is from a previous event. We hold the maze annually. Please visit the Maize Maze page for more current info.…
Rio Grande Community Farm depends upon your generous support to provide our education and outreach programs. Help us on our mission!
Rio Grande Community Farm is a 501(c)3 non-profit that manages a 2-acre community garden with education programming, and advocates sustainable agriculture and numerous initiatives to strengthen Albuquerque's bonds to its rich agricultural history and quality, healthy, local food.