Welcome to the Farm!
Jamie Welles, Executive Director
I am so grateful for your support of the community farm and our mission of sustainable urban agriculture, environmental education, and wildlife. In the three years I have been Executive Director, RGCF has become a leader for regenerative farming techniques. We've expanded to 38 micro-farmers this year, who grow produce, herbs, flowers, and seeds. This year we are serving over 100 garden row-holders. We're proud to host Tres Hermanas Farms Refugee Agricultural Partnership Program, the Mountain Dojo neuro-divergent group, and veteran farmers.  With your support we hired two new Farm Educators, Yurida Loera-Ramirez, who goes by Yuri, and Rich Adeyemi. They have really helped Kelvin, our Farm Coordinator, out and are wonderful additions to lead workshops and grow our summer camp program to over 350 youth.
We now have three different types of composting: hot pile, windrow, and Johnson Su bioreactors. Come visit and see how we're adding compost buckets to our 116 fruit trees to provide nutrients naturally. Rich has been involved with the Bernalillo County Master Composters and is bringing more knowledge and workshops to our community farm.
Thanks to the City, RGCF made great improvements to the greenhouse this year – replacing the roofing gear system, lighting, and fans. We have also installed new cooling system media, durable rolling tables and built a large germination box. All this makes starting plants easier and gives us more square footage for plants. Yuri has the greenhouse looking awesome.
Thank you all who have helped with donations and volunteering. With you, the farm is able to become what it is today and what it will become tomorrow. Please come see us at the Plant Sale and Spring Festival, April 15th from 9 am-5 pm and meet Rich and Yuri.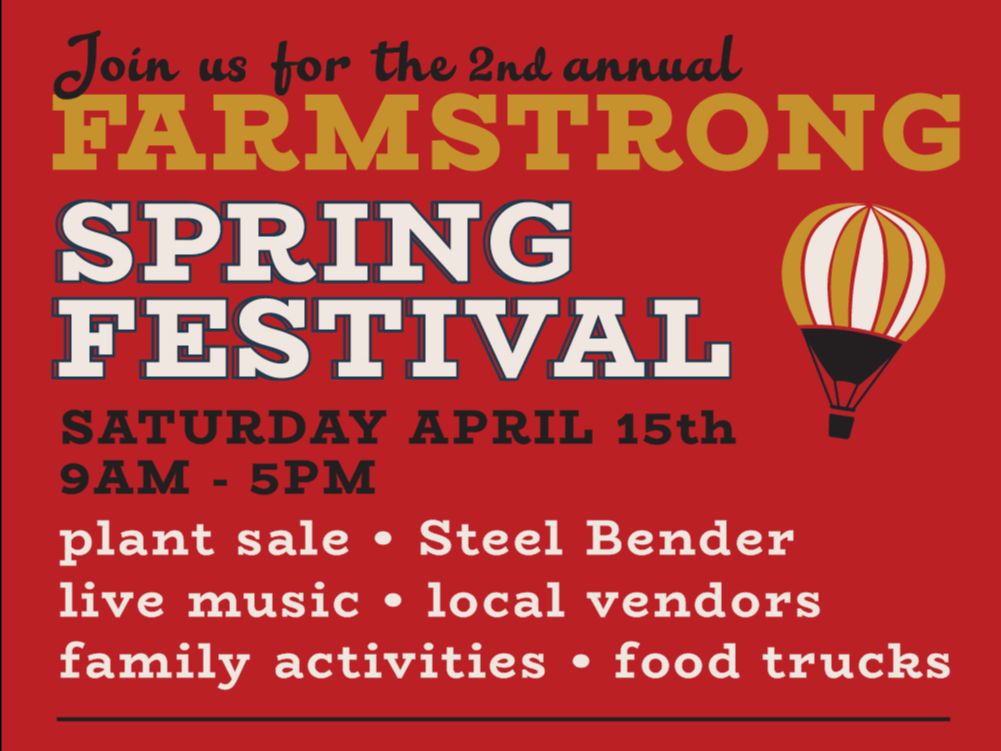 Get ready for our annual seedling sale and Farmstrong Festival at Rio Grande Community Farm!
We're excited to offer a wide variety of vegetable seedlings, including hundreds of tomatoes, peppers, herbs, and salad greens all grown right here, pesticide-free, as we've been doing for 26 years. Come by and get your spring and summer starts!
Come out April 15th from 9 – 5 for your plants at our FarmStrong Spring Festival, with live bands, a marketplace with 19 vendors selling handmade items, and plenty of delicious food and beer garden. Boogie to your favorite bands, including Que Onda, The High Desert Playboys Duo, Swing Magique, Zink and the Oxides, and Rodney Bowe.  It's going to be a fun-filled family-friendly event — bring your friends. Be sure to check out the local vendors including Jo's Farms, Enchantment Press, Kimber Ross Studios, Artemisia Herbs,Bloomers, Crystal Rhapsody, Loaded Lemon Abq, Laughing Hare Hot Glass, New Mexico Sticker Company/Metal The Brand, Sugar Bee's Sweets, El TACO STOP, and Enchanting Kreativity.
Parking is free at the Los Poblanos Fields Open Space
(Montaño Rd., NW and Tierra Viva Place, NW).
From there walk east to the gazebo under the big cottonwood tree.
Admission is $5 per head, kids 3 and under are free
As a non-profit organization, we appreciate your joining us for one of our main fundraising events. You will be supporting our work in sustainable urban agriculture, environmental education, and wildlife habitat enhancement.  This year we expect to serve 12,000 visitors, 350 youth at summer farm camp, 100 folks in our community garden, and 38 awesome micro-farmers operating on 1/8 to 1-acre plots.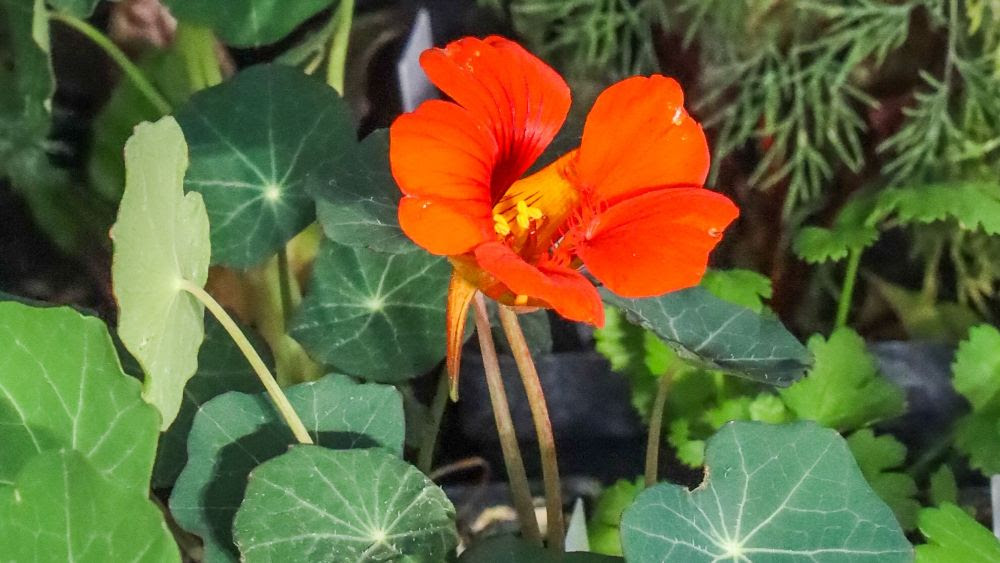 What you'll find at the plant sale!
Are you planning to start a garden in your backyard, on your apartment patio, or even indoors? We have a variety of seedlings that are perfect for any size and type of garden. For those with limited space, try our compact varieties such as cherry tomatoes, herbs, and peppers, which can thrive in small containers on apartment patios or even indoors near a sunny window. Schools and community gardens can benefit from our larger varieties such as pumpkins, squash, and watermelons, which are great for group activities and harvesting in the fall. Whatever your gardening situation, we have the perfect seedlings to help you get started and grow your own fresh produce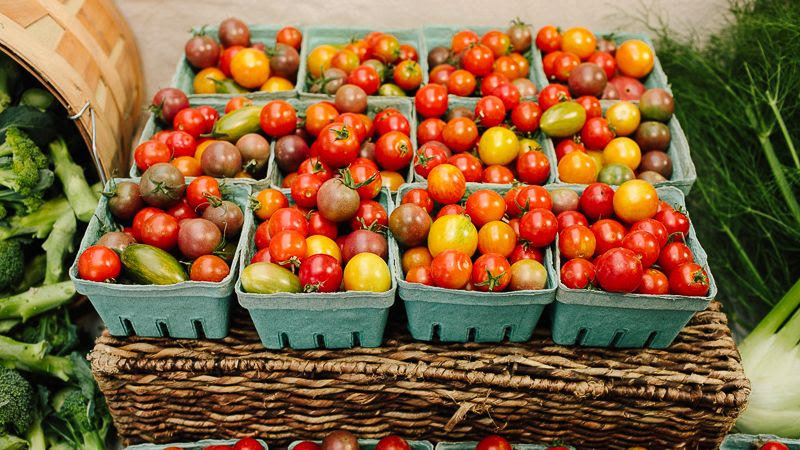 Five ways to ensure juicy tomatoes (and crunchy radishes)!
At Rio Grande Community Farms, we like to think like a plant.  Our seedlings say, "Watch out for frost" and "Keep my roots in healthy soil".  In your garden you'll have plenty of sun and water to give your plants, so their needs boil down to healthy soils (thank you compost!)  and protection from late frosts. Thankfully, our team has already selected strong varieties for you and kept out the poisons you might get with plants from big box stores.
Harden off your seedlings: Before planting your seedlings outside, it's important to gradually expose them to outdoor conditions. This process, called hardening off, acclimates the plants to changes in temperature, sunlight, and wind. Start by placing your seedlings outdoors for a few hours each day, gradually increasing the amount of time they spend outside over the course of a week or two.  Double check soil moisture in the pots because they can dry out faster in Albuquerque's breezes.
Protect against frost: If frost is a concern, cover your seedlings with frost blankets or other protective coverings on nights when frost is expected.
Choose the right planting location: Make sure to choose a spot that receives adequate sunlight (more than 6 hours a day), has good drainage, and is protected from strong winds. Avoid planting in low-lying areas where cold air can accumulate, as this can increase the risk of frost damage.
Amend soil as needed:  When you put your seedlings in the ground, or a larger pot on our patio, be sure to add compost or other organic matter to improve soil structure and fertility.  Why not consider testing your soil to determine its pH and nutrient levels? No need to overdo the fertilizer, which can burn leaves or even stall fruiting. Several times over the season, top dress with an inch or two of compost to create the optimal growing conditions and reduce water stress; avoid bare soil. Adding fertility is crucial for potted plants because frequent watering flushes out precious nitrogen fertilizer.
Water regularly: Seedlings require consistent moisture to thrive, so make sure to water them regularly. Avoid overwatering, as this can lead to root rot and other issues.
By following these tips, your seedlings will have the best possible chance of success, even if our last frost surprises us.