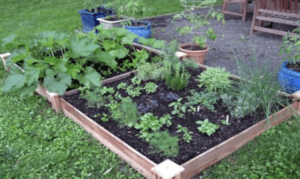 Five Considerations for Growing Food At Home
by Rich Adeyemi
Growing food at home is becoming more and more popular. This is because there is a growing awareness among consumers about food and its relationship to human and environmental health and well being. Hence, most people now want foods that are grown without harmful chemicals. They want foods that are fresh and nutritious and they want foods that are packaged without deceptive labels. In a world where the human population is constantly increasing, finding growers and companies that satisfy the above demands is a tall order. As a result, more people are opting to grow their own food, at home.
Home gardens involve utilizing the spaces around a house (front yard, backyard, patio, porch, rooftop or windowsill) to grow food, particularly vegetables, fruits, herbs, and spices. Growing food at home eliminates the need to travel long distances to get food. It reduces "food miles," which is the distance food travels from farm to table. Foods with fewer food miles have been proven to retain about 95% of their nutritional value and flavor. What's more, growing food at home beautifies your home landscape.
Getting Started
Starting a home garden can be intimidating, especially for those with no gardening experience. It can also take a lot of time and hard work, but, once established, home gardens can flourish with minimal labor or inputs. Careful planning is important for a successful home garden. Here are the most important considerations when starting a home garden:
1. Space
It is important to note that it no longer matters whether you have actual land. What really matters is identifying the space you do have. Houses with no land that have spaces (such as a porch, concrete floor, rooftop etc.) can build home gardens too. The amount of available space around your house will determine what techniques can be used and how many vegetables and other food crops can be produced. Your home garden can maximize the efficient use of every available space by deploying innovative technologies.
Vertical garden – For those with limited land or space, this method of gardening enables you to grow up and not out. You grow up on a trellis, on garden netting, in a tower of pots, and over garden structures.
Container garden – If you desire to have ready access to fresh food but have no land in which to grow, container gardening may be suitable for you. A container garden is grown completely in hardware such as pots, grow bags, bottles or an elevated wooden bed. (To be continued next month.)
_________________________________
 
Maize Maze Fall Festival
Another fun-packed harvest season weekend at Rio Grande Community Farm with our signature Maize Maze, Sunday Salsa Showdown, local entertainment, hayrides, farm activities, and crafts!
On Saturday, our neighbors at the Village of Los Ranchos Larry P. Abraham Agri-Nature Center will offer free sheep shearing demos and more with your paid admission!
Our neighbors at Big Jim Farms are donating 10% of pumpkin sales to Rio Grande Community Farm! They are also offering their popular Chile Ristra Stringing classes at the event for an additional fee at checkout.
___________________________________

Image: Larry and Rowena Sisneros
Row's Pepper Takes First Prize at New Mexico State Fair
by Nathan Kunkle
A big congratulations to our very own Rowena Sisneros for her New Mexico State Fair First Place win! The green Serrano peppers (capsicum annuum "serrano") she entered in the "Field, Garden, & Orchard Crops" competition took home the top prize. We could not be prouder.
Rowena first found out about the Farm from a pamphlet at the New Mexico State Fair several years ago – talk about full circle! After going through training with the Albuquerque Master Gardener program, she started working her own plot in the Community Garden. Besides the Vitamin D, connection to the earth, and wonderful produce, she has really enjoyed getting to know other growers. The community within the Farm has been important for her.
Rowena has been growing delicious produce and beautiful flowers on her plot for two years now, a long way from where she was born and raised on one of the Hundred Islands in the Philippines. Growing some produce she had missed from home such as bottle gourds and long beans has allowed her to reconnect with her heritage in a special way. Rowena excitedly showed me the bitter melon, lemongrass, a specific type of okra, and other produce primarily grown in Asia that her good friend grows a few plots over. We also spoke a bit about Filipino cuisine and how she would love to cook for us at community potluck! We can hardly wait!
________________________________________
Aceqias: The Legacy Lives On
Film Review by Nathan Kunkle 
Is water a commodity or is it an integral part of our community? Should we sell it or should we share it?  Local filmmaker, Arcie Chapa, explores these questions in her documentary, "Acequias: The Legacy Lives On". Chapa takes you on an impressive visual journey through New Mexico's 700 acequias while sharing the history of these important and complex water systems.  Over hundreds of years, acequias have survived colonization and exploitation, all while connecting the people of New Mexico to earth, its water, and one another.  Traditions of the acequia live on in communities all over the state, but there are new threats to their existence as climate change pushes on.
"Acequias: The Legacy Lives On" is currently available to watch for free through PBS.  You can access it here.